Jason Todd
Jason Todd in New 52 As Red Hood
Information
Creator(s)
Origin
DC Comics
Download Link
[Jason Todd Download]

Jason Todd "Jason Peter Todd" is the second and former robin that once worked alongside Batman before being killed by Joker and revived. When he returned he became the Red Hood and no longer served Batman and instead of taking criminals to jail, he kills them which goes against one of Batman's teachings.
In MUGEN, Jason has been created once by UNLIMITED.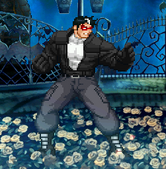 Ad blocker interference detected!
Wikia is a free-to-use site that makes money from advertising. We have a modified experience for viewers using ad blockers

Wikia is not accessible if you've made further modifications. Remove the custom ad blocker rule(s) and the page will load as expected.