Ultron
Ultron as he appears in "Age of Ultron" comic.
Information
Creator(s)
Origin
Marvel Comics
Download Link
Ultron Download

Ultron is a fictional super-villain in Marvel Comics who serves as one of The Avenger's villains. He is a sentient robot created by Hank Pym (Tony Stark in the MCU).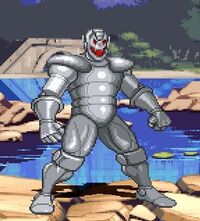 In MUGEN, he's been created once by McCready, Enzo, Magus & Scruffydragon along iwth the Mugenesis Team.
Ad blocker interference detected!
Wikia is a free-to-use site that makes money from advertising. We have a modified experience for viewers using ad blockers

Wikia is not accessible if you've made further modifications. Remove the custom ad blocker rule(s) and the page will load as expected.